Opening Times
Last entry at 16:30
Some animals may not be viewable after 16:00
Closed
Entrance fees
Single
Group
(20 or more people)
One-year passport
General
(high school and above)
¥500
¥400
¥1000
Students
(elementary/middle)
¥100
¥80
¥200
※Pre-school children are free. Fee discounts/exemptions also apply to senior citizens over 70 and special needs persons.[※] Please enquire for details. [※] Of Kagoshima City, Kumamoto City and Fukuoka City
Parking fees
Large vehicles and buses: ¥400
Other vehicles: ¥200
Play equipment fees
Other services
Pram
With top, 30 avail
1 use, ¥300
Without top, 52 avail
1 use, ¥200
Coin lockers
(by entrance gate)
W 40cm x H50cm (18 available)
1 use, ¥200
W 40cm x H75cm (8 available)
1 use, ¥300
Carry cart
For luggage
1 use, ¥100
Umbrellas (rental)
60 cm long (200 avail)
1 use, ¥100
Hand-push wheelchair
10 avail
Free
Access via public transport
By car
Kyushu Expressway Kagoshima I.C → Ibusuki Skyline Taniyama I.C → Prefectural Road No. 219 → National Road No. 225 → National Road No. 226 → Hirakawa Zoo (approx. 15mins from Taniyama I.C)
Time taken from main spots(by car):
Taniyama I.C → approx. 15mins
Kagoshima Chuo Station → approx. 35mins
Tenmonkan → approx. 40mins
Kagoshima Aquarium → approx. 40mins
Kagoshima Airport → approx. 75mins
JR
Kagoshima Chuo Station → Goino Station(25mins on the Ibusuki-Makurazaki Line)
Goino Station → Hirakawa Zoological Park (20mins walk)
Bus(Kagoshima Kotsu No. 2: every 60 mins, journey 60 mins)
Kagoshima Station (Aquarium)→Tenmonkan→Takamibaba→Korimoto→Taniyama Station →Goino Station→Hirakawa Zoological Park
Zoo map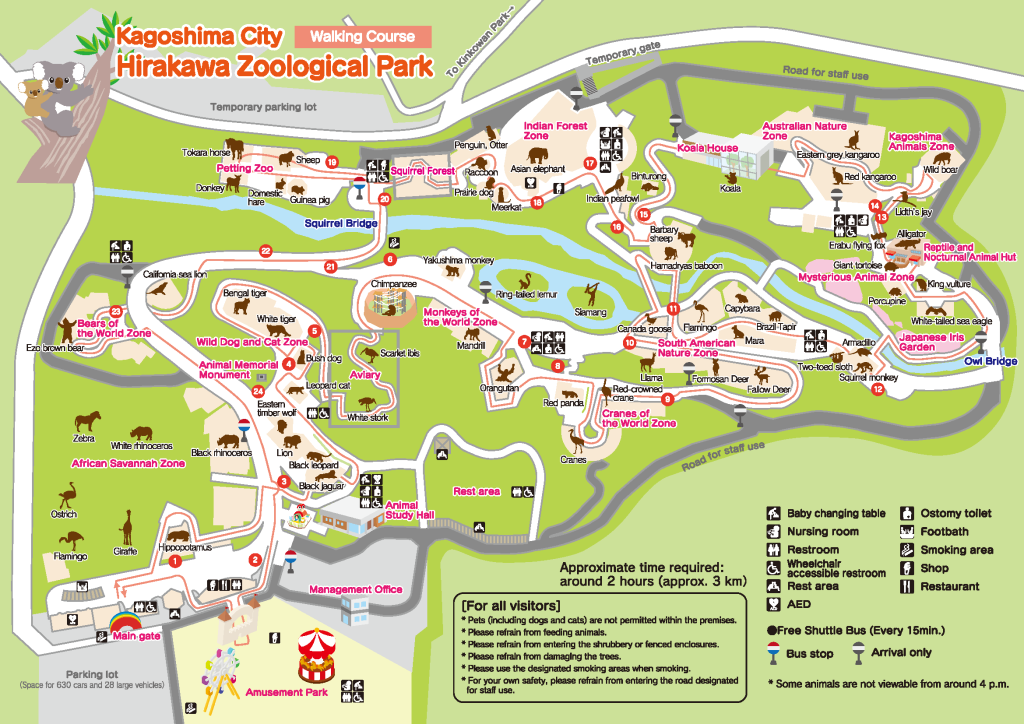 Hirakawa zoological park map(PDF file:2.4MB)
Introduction to Hirakawa Zoological Park
Facilities Guide
As you enter the main gate, a magnificent panorama of an African Savannah of giraffes, zebras, rhinoceroses, ostriches before a backdrop of Sakurajima and Kinko Bay spreads out before your eyes. You can also gaze upon the animals and Sakurajima while soaking your feet in the footspa within, experiencing its healing and relaxing properties in Kagoshima Southern spirit.
Facilities Outline
Hirakawa Zoological Park was opened on the 14th October 1972, and is a zoo with abundant greenery spanning a total area of 31.4 hectares. There are around 1000 animals of 140 species being raised in the zoo. One of most prominent koala-raising zoos in Japan, it is also home to popular animals such as the Indian elephant, red panda, and boasts a 1,900㎡ flying cage which houses several breeds of colourful, beautiful, free-flying birds.
Other highlights include the Chirdren's Zoo, where one can touch rabbits and other animals, and playground with a 40m high Ferris wheel, spinning tower and Go-carts. This is a zoo within nature to "have fun learning, have fun playing".
Animal population: 141 species, 967animals
| | Mammals | Birds | Reptiles | Total |
| --- | --- | --- | --- | --- |
| No. of species | 83 | 44 | 14 | 141 |
| Population | 538 | 399 | 30 | 967 |
※As of October , 2022
Kagoshima City Guide